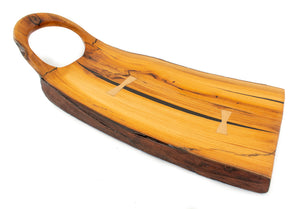 Live-edge, yew-wood charcuterie board
Tray measures 5" wide x 14" long.
Each end of the tray has an indentation on the bottom where you can insert fingers and easily pick up the tray from a flat surface.

Any natural stress cracks/checks or holes from insects or soft bark inclusions have been cleaned out and filled with black epoxy resin or green malachite impregnated epoxy to improve stability and to prevent food particles from lodging there.

Bowties (or butterflies) were inserted for a decorative feature and for structural enhancement.
It was finished with 3 coats of in-the-wood, food-safe polymerized tung nut oil and is silky smooth.
The original yew shrub was reclaimed from a local construction site in Needham, MA.
SKU: 189-YWCB